Cyber Skills Dean Brennan Emerges Victorious at World Skills Ireland 2023 Cyber Security Competition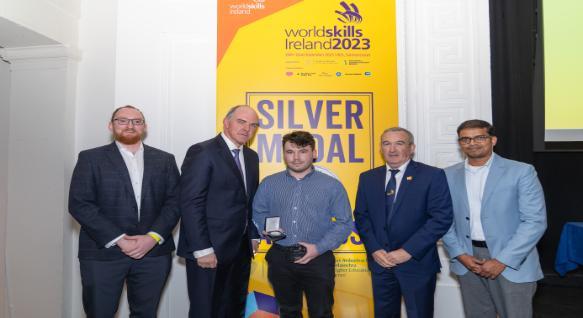 The participants in this prestigious competition, hailing from diverse educational and professional backgrounds, showcased their extraordinary skills in the sphere of cyber security:
The contestants were:
Dean Brennan - Munster Technological University (MTU)
Mark Drinan - MTU / University of Galway
Anna Kellegher - Technological University Dublin (TUD) (Defence Forces)
Amy O'Neill - Technological University Dublin (TUD)(Defence Forces)
Michael Svirydav - Technological University of the Shannon (TUS) (Intern at Dell)
Luke Woodside - Technological University of the Shannon (TUS) (Woodside Networks)
We extend our hearty congratulations to all participants for their exceptional performance and their commitment to advancing the field of cybersecurity.
The Cybersecurity Competition owes a significant portion of its success to the generous sponsorship from Janssen Sciences Ireland, a testament to their dedication to nurturing talent in this critical field.
Integral to the competition's structure was access to the Cyber Range sponsored by Cyber Skills, a pivotal platform for both training and evaluating cybersecurity skills, accessible to all participants in the Cybersecurity WorldSkills Ireland preliminary and final competitions.
George O'Mahony, the Chief Examiner for the competition, played a pivotal role in upholding the fairness and integrity of the event. His expertise and unwavering commitment have been instrumental in ensuring the competition's adherence to the highest standards.
Additional examiners who contributed to the competition's success included Dylan Smyth from Munster Technological University and Anwar Arakkal, the Cybersecurity Lead at Janssen Sciences Ireland UC. Their collective efforts in developing challenging tasks encompassing code review, reverse engineering, OSINT, Apache, firewalls, Linux administration, offensive security, cyber defense, and attack analysis were instrumental in upholding the competition's rigour.
The competitors strived to secure a coveted spot on Team Ireland for the forthcoming WorldSkills International competition, set to be held in Lyon, France in 2024. Their exceptional skills were on full display across the four rigorous cybersecurity modules, where the 2023 Silver Medal was at stake. The modules encompassed a range of vital areas, including setting up network and computer systems securely, responding to cyber attacks and comprehending their implications, penetration testing/CTFs, and defending against cyber-attacks.
Dean Brennan, the triumphant victor of the competition, shared his reflections on this remarkable journey: "The World Skills Cyber Security Competition is a phenomenal experience and is something I would highly recommend to anyone interested in Cyber Security and seeking to test their skills against the best in Ireland. It was a challenging three days of competition that thoroughly tested my knowledge across various facets of Cyber Security. From the competition, I can vividly see how my cyber skills have progressed over the past year. Overall, it was a brilliant experience, and it's something I would eagerly participate in again. I look forward to what the future holds for the WorldSkills competition."
Dean's sentiments reflect the passion and dedication of the competition's participants, who are steadfast in their commitment to advancing their expertise in the dynamic and critical field of cybersecurity. We extend our best wishes to Dean and all the competitors as they continue to excel in the world of cyber security.