Preliminary Round 2-World Skills Ireland
February 16, 2022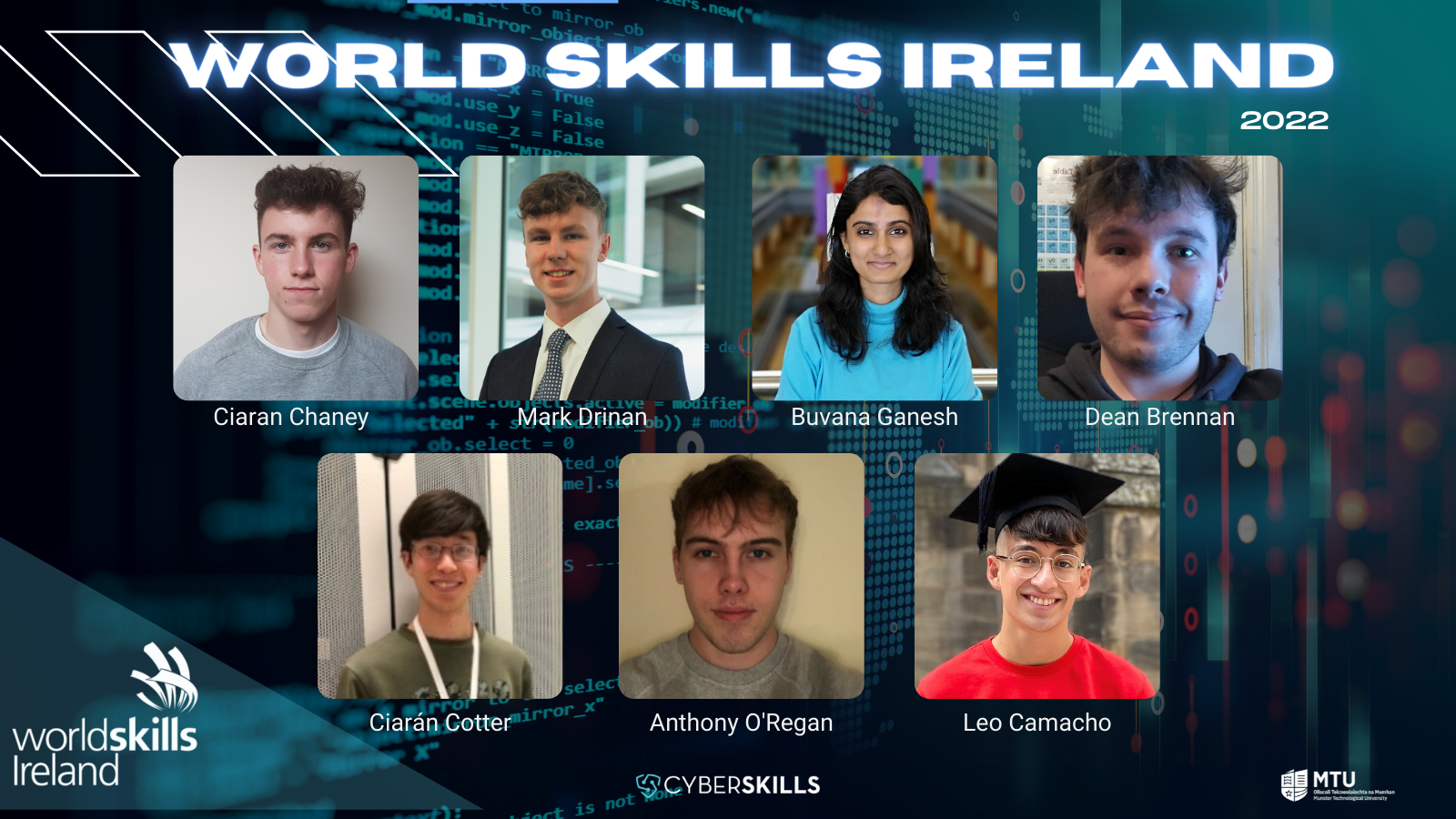 WorldSkills Ireland, Cyber Skills and Munster Technological University are delighted to announce extra places available for the WorldSkills Ireland Cyber Security competition.
Due to the World Skills Ireland 2022 event in the RDS, Dublin being postponed to September 2022, we have decided to seek additional participants for the World Skills Selection Event/WorldSkills Ireland 2021 Silver Medal national event. This will take place as an online event on 01st & 02nd April 2022. Preliminary round 2 is open to anyone who did not compete in round one.
Preliminary Round 2:
When: Saturday March 5th, 9am-1pm
Where: Online
Infrastructure: Cyber Range
Competitor must be:
Aged between 18-26 (born in 1996 or younger)
Studying or working on the island of Ireland
Interested in Cyber Security
Register Here https://forms.office.com/r/1tHbWRRXgw
Closing date to register is Thursday, 03rd March 2022
Winners from round 1 and round 2 will advance to the WorldSkills Ireland National selection event/2021 Silver Medal, a two-day online event taking place on April 01st and 02nd 2022 as an Online event on a Cyber Range infrastructure.
Congratulations to the winners from round 1, Dean Brennan, Ciaran Chaney, Ciarán Cotter, Buvana Ganesh, Tony O Regan and Leo Camacho, who all received a ticket to Zero Day Con kindly sponsored by Smarttech247. Additionally, Mark Drinan has also qualified for the national selection event.
Zero Day Con takes place in the Dublin Convention Centre on the 10th March 2022.
Register Here https://forms.office.com/r/1tHbWRRXgw
WorldSkills Ireland Mentorship
Mentorship stage 1
The selected top competitors from the preliminary events will be provided with a mentorship programme before the national competition provided by leading experts from both academia and industry. For those who are selected from Preliminary round 2, all material covered to that point will be made available so they can receive the same level of mentorship.
Academia mentorship will include access to the cyber range, specific scenarios, notes and guidance
Industry mentorship will include mentors from various industry partners and include tutorial sessions, discussions, general mentorship, and industry specific challenges/scenarios.
Mentorship stage 2
The selected competitors from the national final will receive at least 10 weeks of mentorship before the WorldSkills event.
Register Here https://forms.office.com/r/1tHbWRRXgw
For more information, please contact Dr George O'Mahony - WorldSkills Ireland Expert for Skill 54 –Cyber Security GeorgeD.OMahony@mtu.ie